Pamela och Mikael Strandberg, med två döttrar, bodde i ett helt år på Grönland för att studera inuiternas upplevelse av och relation till de pågående klimatförändringarna. Mikael och döttrarna återvände till Malmö förra sommaren och nu har slutligen flaggrapporten från expeditonen blivit färdig.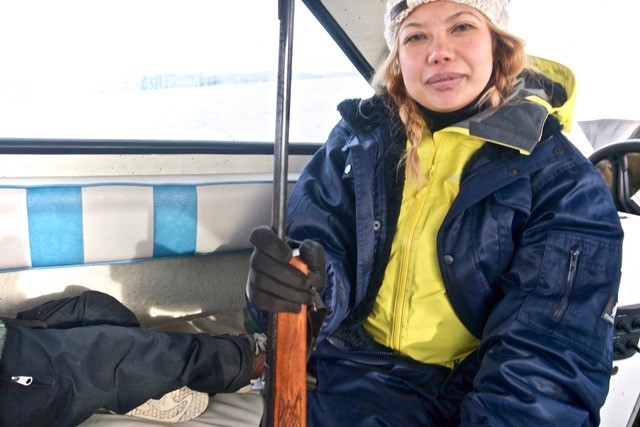 When Mikael and I left for Greenland to collaborate with local Greenlanders documenting rapid changes in climate, we were embarking on a very ambitious project. Following our Flag Report is a summary of our original proposal. Although we managed to capture elements of seasonality and how hunters perceive 'climate', at times it was not without doubt. We managed to capture images of seasonality in the formation of sea ice. However, we were unable to utilize four film cameras, two for ourselves and two for the Greenlandic family. With one film camera, cameras on Ipads and Iphones, we documented physical properties of ice and snow, and conversations from hunters talking about climate or Inuit concept of climate, sila.

Läs mer här: https://www.mikaelstrandberg.com/2019/03/12/explorers-club-flag-report/
Detta var femte gången Mikael bar klubbens flagga, vilket är flest bland Sweden Chapters medlemmar. Samtidigt säger han själv att det denna gång varit Pamela som gjort det mesta arbetet. Hon bor fortfarande kvar och arbetar i Kangerlussuaq. Rapporten i sin helhet kan läsas här: Flag report GLICK
Läs Mikaels fältrapporter från tiden på Grönland här: Mannen med familjen.
En bra sammanfattning av upplevelserna på Grönland ges i denna intervju med Mikael: Our man in Greenland: Home is wherever you make it.
Vi gratulerar Pamela och Mikael till slutförd flaggexpedition och ett väl utfört jobb under mycket svåra påfrestningar. Arbetet med en dokumentär som skildrar äventyren på grönland fortgår dock för Mikael och vi ser med spänning fram emot resultatet av detta arbete. Fortsättning följer.